How to Remove PDF Restrictions
In our daily life and work we received so many PDF files which are restricted by owner restrictions. In this case you might have noticed that you can't modify, edit, copy or print data from the PDF file, this is due to the owner of the PDF file sets some restrictions that disable you to access that file. A locked PDF file can contain two different types of protection. Owner protection restricts the editing and printing of the document. User protection can be used when passwords are required to open the document. Many people may be bothered by this problem about the encrypted PDF files, and wonder how to remove PDF restrictions efficiently?
In order to remove PDF restrictions from a PDF file which has had those features locked or disabled, Ahead PDF Password Remover is one of the best solutions for you to remove PDF restrictions in one go. This program enables users to remove PDF restrictions of copying, editing, and printing.
Steps to Remove PDF restrictions:
Step 1. Download and Run the PDF Password Remover
Download Ahead PDF Password Remover and then install it on your computer. Then launch the program by double click the desktop icon.
Step2. Import PDF files
Click the "Add Files" button to import PDF files you need to remove PDF restrictions. If you want to import a batch of files, press the "ctrl" key to select. Set the destination folder to save your unlocked PDF file.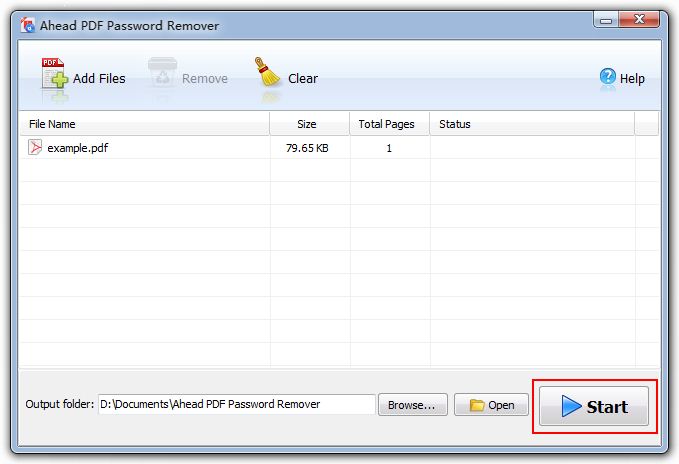 Step3. Remove PDF Restrictions
Click "Start" to remove restrictions from PDF files. After processing is complete, the file name of unlocked PDF file will be displayed in the Status column, and you can click the file name to open the unlocked PDF file.
Now, you've removed restrictions from PDF files and you can copy, print and edit your PDF files immediately!
Ready to try or buy
Buy Ahead PDF Password Remover($25.95)
Download Ahead PDF Password Remover