How to remove PDF security
Sometimes you may have come cross PDF files that are distributed with restrictions such as:
1. Can't copy text from the PDF files.
2. Can't print the PDF documents.
3. Can't edit the PDF documents.
That is because the authors have set security to protect their PDF files from being printed, changed, copied or extracted.
If a PDF file is crypted by document open password, users must type in the password to open the PDF.
However, we need to remove PDF security to copy some contents or print the document.
Many people may be bothered by this problem about the encrypted PDF files, and wonder how to remove PDF security efficiently?
You can remove security from PDF in batch mode by Ahead PDF Password Remover. It's very easy to use, just add PDF files and click the start button to remove the security.
step1: Download and install the software
Download the software and the product page and then install it on your computer.
step2: Launch the program and import PDF files
You can launch the program by double click the desktop icon, then click the "Add Files" button to import PDF files you need to remove security. If you want to import a batch of files, press the "ctrl" key to select.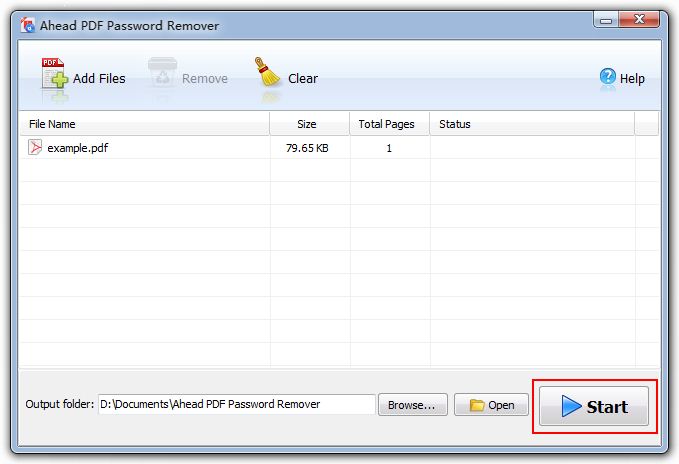 step3: Remove PDF security
Click "Start" to remove security from PDF files. After processing is complete, the file name of unlocked PDF file will be displayed in the Status column, and you can click the file name to open the unlocked PDF file.
Ready to try or buy
Buy Ahead PDF Password Remover($25.95)
Download Ahead PDF Password Remover