How to unlock PDF files
Portable Document Format (PDF) is an open standard for document exchange. Sometimes you receive a PDF file from a friend or from the Internet that is password protected. Some need a password to open, others have the content protected and others prohibit you against printing the file. So, in this case how to unlock PDF files? Here I will tell you how to unlock pdf files for printing or viewing.
Ahead PDF Password Remover is a utility that allows you to unlock the password and restrictions on printing, editing and copying. After unlock, you can reuse PDF files without any restrictions.
Steps to unlock PDF files:
Step 1. Download and Run the PDF Password Remover
Download Ahead PDF Password Remover and install it on your PC. Then launch the program.
Step2. Import PDF files
Click the "Add Files" button to import PDF files you need to unlock. If you want to import a batch of files, press the "ctrl" key to select. Set the destination folder to save your unlocked PDF file.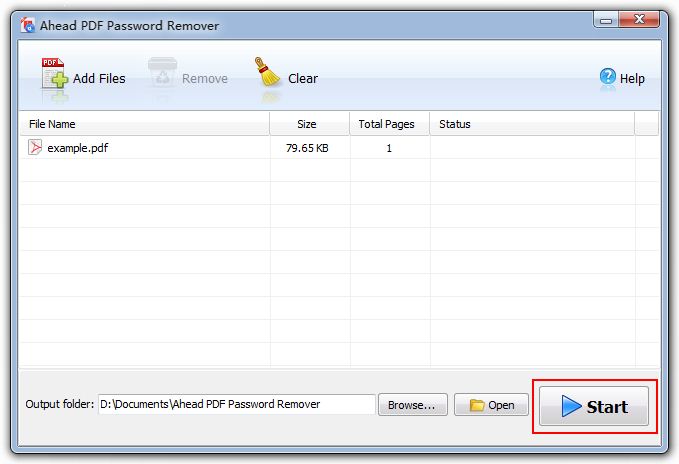 Step3. Unlock PDF Files
Click "Start" to unlock PDF files. After processing is complete, the file name of unlocked PDF file will be displayed in the Status column, and you can click the file name to open the unlocked PDF file.
Ready to try or buy
Buy Ahead PDF Password Remover($25.95)
Download Ahead PDF Password Remover